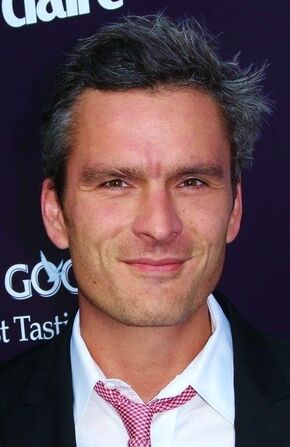 Balthazar Getty is an American actor that portrayed the character of Richard Montana in Season 6 of Charmed.
Quick Facts
Edit
Biography
Edit
Paul Balthazar Getty was born in Tarzana, California and raised in San Francisco before being sent to private school in Britain, where he was enrolled at Gordonstoun School, an elite boarding school that has educated three generations of the British Royal Family. His great-grandfather is the late Jean Paul Getty, founder of the Getty Oil Company, and at one time one of the richest men in the world. His father is John Paul Getty III and his mother, Gisela Martine Getty (nee' Schmidt), is a professional photographer and documentary filmmaker.
In 2000, Getty married fashion designer Rosetta Millington. They have four children: Cassius Paul, Grace, Violet, and June Catherine. Although the two separated in 2008, they have recently reunited.
Entering show business in 1987, Balthazar auditioned for the lead role in the film Lord of the Flies and won the role of Ralph after being spotted by a talent scout in his art class at school. Shortly after he appeared in numerous films including Young Guns II, Natural Born Killers and Lost Highway. More recently he has appeared in the films Deuces Wild, Ladder 49, Feast and Traffic as well as on television series Charmed and Brothers & Sisters.
Television
Edit
Hawaii Five-O
Rizzoli & Isles
Medium
Dirtbags
Brothers & Sisters
Alias
Ghost
Charmed
Lost Highway
Traffic
Sol Goode
Habitat
Mr Hollands Opus
Don't Do It
Where the Day Takes You
December
My Heroes Have Always Been Cowboys
Young Guns II
Lord of the Flies
Nightmare Classics