Rose McGowan

Rose McGowan attends The Humane Society of the United States' To the Rescue! New York Gala at Cipriani 42nd Street on December 18, 2012 in New York City.

Biographical Information
Full Name
Rose Arianna McGowan
Birth
September 5th, 1973
Birth Place
Florence, Italy
Title(s)
Physical Information
Gender
Female
Hair Color
Brown/Black
Eye Color
Brown
Skin Color
White
Heritage
Personal Information
Occupation
Actor
Well Known Exes

Robert Rodriguez
Marilyn Manson

Charmed Role
Paige Matthews
Charmed Appearances
Rose appeared in all 112 episodes from Season 4 to Season 8
First Appeared In
Charmed Again, Part 1
Last Appeared In
Forever Charmed
Starred In Such Shows As
Starred In Such Movies As

Scream
Dead Awake
Planet Terror
Death Proof
Jawbreaker
Conan
Rosewood Lane
"NYC fashion week kicked my a**! Back home recuperating. :)" - Rose comments on 2011 New York Fashion Week via Twitter on September 15, 2011
Italy born Irish-American television and film actress Rose McGowan portrayed the role of Paige Matthews from Season 4 through 8 of the WB series Charmed.
Biography
Edit
Born in a barn to Terri and Irishman Daniel McGowan in Florence, Italy on September 5, 1973, Rose is the second eldest of six children and grew up in the United States. Her parents, who were members of the Children of God cult, divorced when she was ten years old, afterwhich Rose lived with her father in Seattle, Washington.
As a child she and her parents moved around extensively and at the age of 14 she was confined to a drug rehabilitation clinic because of the way she chose to express herself through fashion and make-up. She claimed she hadn't done any drugs at that time and later ran away from home, leaving her homeless for a year.
At the age of 15, Rose legally emancipated herself from her father's home and four years later she arrived in Los Angeles, California where she pursued an acting career. She gained notoriety in the mid-1990s when she began dating goth-rocker Marilyn Manson.
In early 2008, Rose was in a car accident, the impact from the crash caused one of the temple arms of her glasses to slice into her face. Rose was afraid she might lose her eye, but an eye specialist along with a plastic surgeon corrected the wounds leaving a subtle difference in her appearance.
Rose was engaged to film director Robert Rodriguez but called off the engagement in 2009.
First starring in the film "Encino Man" in 1992, Rose has appeared in numerous features films including "The Doom Generation", "Scream", "Jawbreaker", "Grindhouse" and most recently "Dead Awake" and "Conan the Barbarian". She has also appeared on various television series ranging from "Nip/Tuck", "The Essentials" and "Law & Order: SVU".
Rose will next appear in a feature film currently in production entitled "Rosewood Lane".
Rose Talks About Her Time on Charmed
Edit
About her time on Charmed, Rose stated: "There are huge positives and huge negatives to doing a TV series: I don't like to think of all the movie roles I missed, but it was really interesting to follow a character over a period of time. My character was the youngest sister, so I kind of played her like a baby Lucille Ball, but she's also a bit of a schmuck, who you feel sorry for but still think is kind of hot."[1]
After the conclusion of Charmed Rose said: "Well, getting up late is so much more my style, so that's been fantastic. But it is very strange to have to give up what was the kind of family that I never really had growing up. The people on the show know more about me than my best friends at the time did. I miss that a lot, actually. I thought about that a couple of times and definitely teared up. It taught me how to work and function in a family, and how if you have problems with somebody not to just run away. And I kind of wound up playing my off-screen character on the set as well — I filled the role of the person who makes everybody laugh, so they all think I'm this goofy person. Once I stepped into that I couldn't break out of it. I guess I am funny and goofy, but not all the time. I felt like it was my job to make everybody happy. I felt like the weird middle child."[2]
Feature Films
Edit
The Tell-Tale Heart
Rosewood Lane
Conan the Barbarian
Dead Awake
Dylan's Wake
Machete
Fifty Dead Men Walking
Grindhouse: Death Proof
Grindhouse: Planet Terror
The Black Dahlia
Stealling Bess
Monkeybone
Strange Hearts
The Last Stop
Ready to Rumble
Sleeping Beauties
Jawbreaker
Southie
Phantoms
Devil in the Flesh
Lewis & Clark & George
Nowhere
Seed
Going All the Way
Scream
Kiss & Tell
Bio Dome
The Doom Generation
Encino Man
Television Series and Made-for-T.V. Films
Edit
Pastor's Wife
Law & Order: SVU
Nip/Tuck
The Essentials
Charmed
Elvis
The Killing Yard
What About Joan?
True Colors
Upcoming Projects
Edit
Rose will appear in the film Rosewood Lane, a thriller produced by Victor Salva, the producer of the Jeepers Creepers franchise. Rose was confirmed as the lead character on February 9, 2011.
Victor stated that Rose will be playing the lead role and described the film saying:
This particular suburban nightmare is about a popular radio talk show host who, after her alcoholic father dies, decides to move back into her childhood home. When she does, she finds out that her neighbors are terrified of their local paperboy. She thinks they're all crazy—until she meets the boy herself and discovers the teen is not just dangerous, but a terrifying and cunning sociopath…one who may have killed her father and even others.
Victor also described Rose's character in the film stating: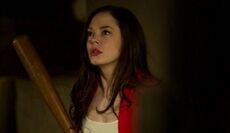 This is the first film I have written with a female lead. She is strong and courageous, but like most of us, when the doors close and she can drop her public facade, she is lonely, scared and vulnerable. And like most characters in a Victor Salva thriller, her ideas and beliefs about life, about good and evil and about what is possible and impossible, are put to some very intense and scary tests. In the case of ROSEWOOD LANE, it's when she runs into an outwardly normal-looking paperboy who in reality is a tremendously dark, homicidal and who knows? Possibly even supernatural force.
Quick Summary
Edit
When radio talk show psychiatrist, Dr. Sonny Blake (Rose), moves back to her hometown, she takes notices of her neighborhood paper boy's unusual behavior.